About Company
Rocks n Rituals is a wellness company based in Bangor, County Down. We specialise in mind, body & spirit wellness and first aid training. Debi Barr is emergency ambulance crew trained and holds a training qualification, enabling her to teach first aid. She also offers certified Reiki training and one to one services. Visit the website for details.
---
Products / Services
1 day emergency first aid course
Emergency First Aid – 1 Day Course £50 per person About the Course This 1 day course will help you meet statutory requirements if a risk assessment indicates that first aid training covering emergency protocols only is sufficient for your workplace. Course Duration One day Who should attend? This course is designed for people who want to receive training in emergency first aid and is especially suited for nominated first aiders in smaller, low risk working environments. This is ideal for wellness workers such as holistic therapists, yoga teachers, coaches and counsellors. What you will learn Basic life saving first aid and workplace health and safety regulations, covering: Bleeding – minor Bleeding – severe Burns Seizure Shock Primary survey Resuscitation (Adult) Role of the first aider Choking (Adult) Communication and casualty care How is it assessed? Continuous observation by the trainer. Certification Successful candidates receive a certificate, valid for three years. Annual refresher training is recommended.
View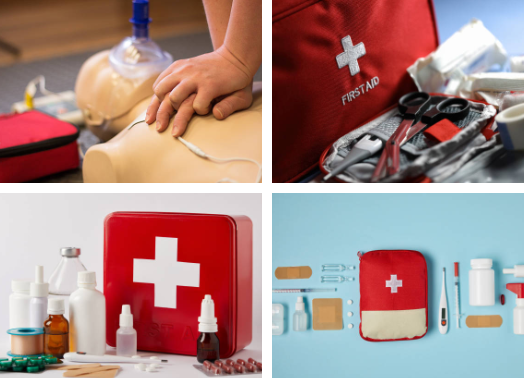 3 day first aid course
Comprehensive First Aid Course (based on the First Aid at Work HSE Course) – Full 3 Day Course £175 About the course This course covers the practical skills needed by a first aider in the workplace. The course will give you the confidence and knowledge to deal with first aid emergencies in the workplace. Course Duration Three days (18 hours) What will you learn? Role of the first aider Health & Safety (first aid) regulations Managing an emergency Low blood sugar Communication and casualty care Poisoning Asthma Resuscitation (CPR) Bleeding Seizures Bone, muscle and joint injuries Severe allergic reaction Burns and scalds Shock Chest pains Stroke Choking Eye injuries Fainting Treatment of an unresponsive casualty Basic defibrillator training (AED) How is it assessed It is assessed with continuous observation by the trainer. Certification Successful candidates receive a certificate, valid for three years. It is recommended that annual refresher training takes place. Refresher training is 3 hours where scenarios are presented and you can practice hands on skills to refresh your knowledge.
View
---
Jobs
---
Activities
---
Contact Details

---
Reviews (0)
---
Submit Review
Contact Rocks n Rituals